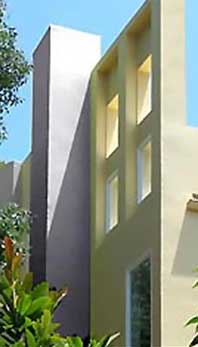 ABOUT CLD

THE CLD TEAM



Ken Kahan, Principal

Ken Kahan is founder and President of California Landmark (or "CLG"), a real estate development and investment company. Since its inception in 1988, California Landmark has invested in or developed all types of real estate from residential (including single family as well as low and high rise multi–family) to commercial (including hospitality, office and industrial). The company has developed in excess of 3,000,000 million square feet of various products.

CLG has distinguished itself in Southern California as an innovative problem solver in both the design and development of dozens of multi-family communities. The firm is currently one of the largest private multi–family developers in Los Angeles with over 500 units in various stages of construction or development.

Current projects include three high profile mixed use projects including the bw (Wilshire at Barrington), the hw (Hollywood Blvd. near Crescent Heights) and the LC (Larchmont at Melrose). Past projects include modern townhomes and industrial "hard" lofts in the Marina Arts District, high rise condominiums along the Wilshire corridor, California courtyard buildings in Westwood and Brentwood, art deco apartments in West Hollywood, and Mediterranean style villas in Century City.

In the past ten years CLG has expanded its footprint of residential acquisitions by purchasing existing apartment communities throughout Southern California. Projects include townhouse condominium projects converted to rentals, middle income apartments in San Diego, renovations of 1950's apartment buildings in the San Fernando Valley and most recently, low income housing in the San Gabriel Valley. At the same time, the firm has expanded its portfolio to include industrial, office and flex space projects totaling several hundred thousand square feet.

Ken is passionate about all aspect of urban planning and development. He is a frequent speaker on matters pertaining to entitlements, zoning, multi family/mixed use projects and urban development. California Landmark has been involved in the City of Los Angeles implementation ordinance of SB1818 and has delivered several mixed income housing projects throughout the region.

A native of Los Angeles, Ken obtained both his bachelor of arts and juris doctor degrees from UCLA. Ken currently resides in West Los Angeles with his family.

Lou Jacobs, joined California Landmark in 1996 as a partner and chief financial officer. He is responsible for financial analysis, underwriting, tax planning and management of California Landmark's projects and investments. Additionally, Jacobs oversees and structures sales and acquisition transactions and debt and equity placements.

He earned a Bachelor of Science in Business Administration at the California State University at Northridge, with honors, and became a California licensed Certified Public Accountant in 1983. Jacobs began his professional career in 1981 at the Big 8 accounting firm Arthur Young and Company in Los Angeles, where he focused on clients involved in all aspects of real estate development. He gained insight into tax planning, accounting philosophy and practice through exposure to diverse base of client operations.

In 1984, Jacobs joined Austram Corporation Ltd. as vice president of finance. He was promoted to chief financial officer and subsequently to president of Austram U.S. Inc., where he was responsible for the Australian company's U.S. portfolio. While at Austram, he was directly involved in land development, residential construction and investments in office buildings and shopping centers.

Patrick Roberts is originally from Seattle, Washington where he attended the University of Washington and received a B.S. degree in Construction Management. Later Patrick attended the University Of Southern California where he graduated with an M.B.A. in Real Estate Finance.

Patrick started his career in Los Angeles with Morley Builders where he was responsible for estimating and managing numerous construction projects, with the most notable being the Westwood Center. In 2002 Patrick joined RAD Ventures, a Live/Work and condominium developer involved in creating the resurgence of the Venice neighborhood. Patrick quickly became the Development Manager at RAD where he was responsible for the evaluation, working design, construction and consummation of new developments. At RAD Patrick concentrated primarily on project feasibility, finance, design coordination and construction management. Patrick is currently responsible for overseeing all post entitlement work at California Landmark, focusing primarily on construction management and finance.

Patrick is passionate about smart development and is looking to work some GREEN into CLD's upcoming projects.


Paul Salazar, Executive Vice President

Paul Salazar joined CLG Management in 2015 as Executive Vice President in charge of finance, capital markets and investor relations, bringing with him a wealth of banking expertise. He began his career in Los Angeles with Charles Dunn Company. After leaving CDC, he became the principal of a mortgage banking firm originating and servicing commercial real estate debt for institutional Life Insurance lenders. Most recently, Salazar was Vice President and Senior Relationship Manager at City National Bank's commercial real estate division. While at City National Bank, Salazar originated and managed a nine figure portfolio that comprised of construction, bridge and permanent loans.

Hailing from Santa Fe, New Mexico, Salazar attended the University of Southern California receiving a bachelor of science in real estate finance from the Marshall School of Business, and Pepperdine University graduating with a master in business administration in corporate finance.

In his free time, Salazar enjoys skiing, playing squash and spending time with his family.

Bo Drake serves as California Landmark Group's Vice President of Acquisitions, managing the company's acquisition and financing activities.

Prior to joining California Landmark, Bo was Director of Asset Management for Standard Property Company, a Los Angeles based private equity real estate firm specializing in low-income housing tax credit and opportunistic investments. During his tenure, Bo optimized a nationwide portfolio of diverse multifamily assets, valued in excess of $400 million.

Bo began his career as an Investment Sales Broker, where he closed in excess of $150 million in sales. He is a licensed Real Estate Broker in the State of California.

Bo graduated with a bachelor's degree in Economics from Claremont McKenna College and is an active member of the Urban Land Institute. Bo resides in Los Angeles with his wife Katie.

Carie Powell oversees all aspects of property management at CLG. Over the past 26 years prior to joining CLG, Carie worked in just about every role in the industry from maintenance technician to Vice President of one of the nation's largest privately held property management companies. Her accomplishments have been recognized by CAA, IREM and RHO nationally and locally. She is also a licensed broker.

Kristina Fielder, a native of Venice, CA attended Venice High School and continued her education at Santa Monica City College.

Kristina began her career working in the loan department of United National Bank. In 1994, Kristina received her Real Estate Salesperson License and worked for Bankers Property Group, a property management and real estate sales company. Her responsibilities included management, leasing, remodeling, accounts payable and receivable for 400 apartment units.

In 1997, Kristina joined California Landmark where she assumed responsibility for day to day apartment management, leasing, and remodeling as well as directly working with the CFO with project accounting. In growing with the company, Kristina has become involved in the acquisition and entitlement process working with government agencies including City Council Offices, LA Housing Department, and City and State Coastal Commission offices.

During development and construction, Kristina is responsible for design professionals' contract administration, reviewing GC draw requests, and submitting owner draws to lenders. Kristina also coordinates tract map clearances, Quimby and School tax refunds, and insurance bonds. Upon completion of a project, Kristina acts as a liaison between HOA Boards and management companies and assists in post construction customer service. Kristina also oversees the property management activities of the company's residential and commercial portfolio.